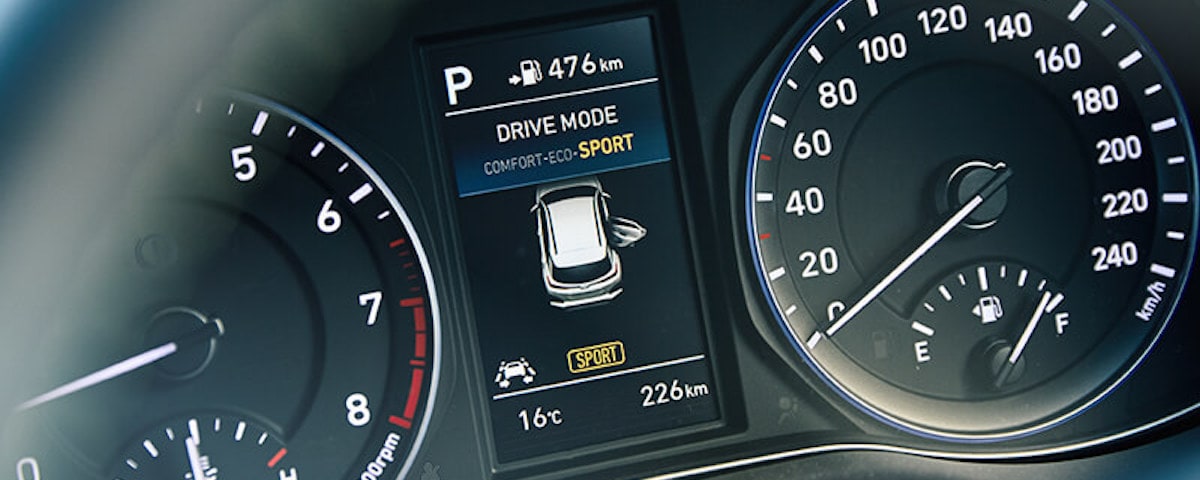 What Is Hyundai Drive Mode?
Hyundai Drive Mode is a quick and easy way to change the driving style of your Hyundai. With settings for Normal, Eco, and Sport, you can use Hyundai Drive Mode to instantly adjust the driving dynamics and feel of your Hyundai, all on the go. The system is incredibly easy to use, simply press the "Drive Mode" button on your center console to switch between driving modes.
Multiple Driving Modes
Many modern cars and SUVs have the ability to switch from standard to a different driving mode, but rarely do you get to select from several or more. Fortunately with Hyundai Drive Mode you can select from multiple drive modes anytime you like, meaning you can switch to the perfect mode when the situation calls for it. Whether you're looking for an economical commute or a sporty backroads adventure, Hyundai Drive Mode means you can perfectly tailor your new Hyundai for your unique driving style.
Normal: Normal mode is the standard, offering regular everyday performance, driving dynamics are not altered. The vehicle will default to Normal mode every time the engine is restarted.
Eco: To maximize your range, Eco mode modifies the engine trim, reducing fuel consumption. This is an excellent choice for long road trips or commutes.
Sport: For a more spirited driving style, be sure to try out Sport mode. This setting increases steering wheel feedback and engine responsiveness to maximize performance.
N-Mode*: For high-performance track driving, select N-Mode. This mode allows the driver to calibrate performance settings like engine response, exhaust sound, and suspension dampening. *Currently exclusive to the Hyundai Veloster N.
New Hyundai Vehicles With Hyundai Drive Mode
Hyundai Drive Mode is one of the best ways to get the most out of your new Hyundai. By giving you control over your vehicle's driving style, you can adjust it to perfectly suit your needs. Hyundai Drive Mode is currently available on all new Hyundai sedans and SUVs for sale at our showroom in Corpus Christi. For more information about Hyundai Drive Mode, or one of the other new Hyundai features, give us a call at 361-444-0156 to speak with one of our friendly and knowledgeable teammates. While you're here, be sure to view our new inventory to find your very own car or SUV with Hyundai Drive Mode today!